About Lena Maria
The Lena Maria is a former freighter, transformed into a modern and attractive boutique hotel ship. Owners Eelke and Carlien will make sure you experience a warm and personal service.
The ship is very versatile. Whether in summer as a holiday address for a bike and barge holiday, in winter as a hotel ship in Amsterdam or in between as "Lena Maria on location". All our experiences have two things in common: being on the water and hospitality.
Layout of the ship
Upper deck
You enter the Lena Maria on the upper deck. The upper deck exists of the front deck, restaurant, lounge and bar.
Front deck
The partly covered front deck provides a sheltered spot to enjoy the water on sunny days. Enter the spacious and bright salon through the big wooden doors.
Salon
In the salon you will find the restaurant, lounge and bar. It is the ideal spot to unwind on the Lena Maria. In the restaurant we serve breakfast, at the bar you can enjoy a refreshing (cold) drink and the large panoramic windows in the lounge offer an amazing view.
Restaurant
Start your day full of energy with a fresh breakfast at our restaurant!
Lounge
In our lounge you can unwind after a busy day in the touristic heart of Amsterdam. Enjoy an amazing view offered by the large panoramic windows.
Bar
At our bar you can relax on the comfortable sofas and enjoy a refreshing drink, such as our own Lena Maria beer.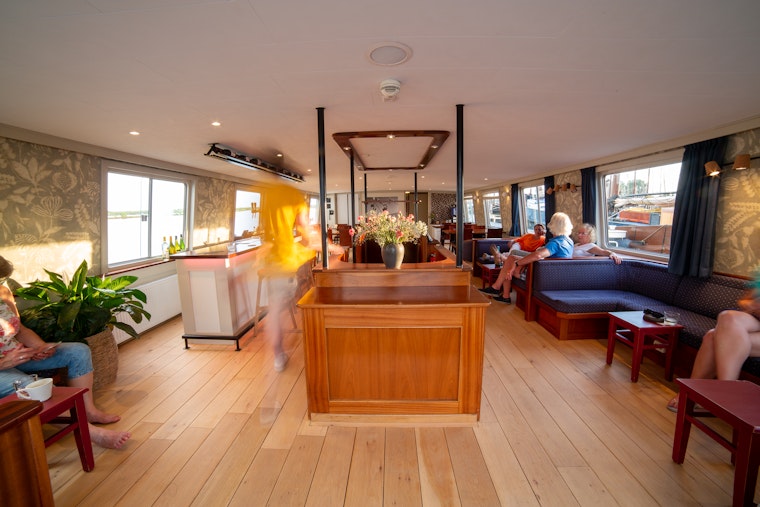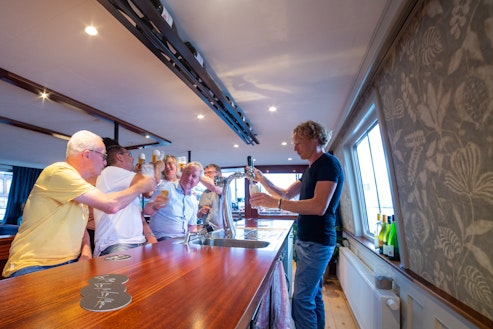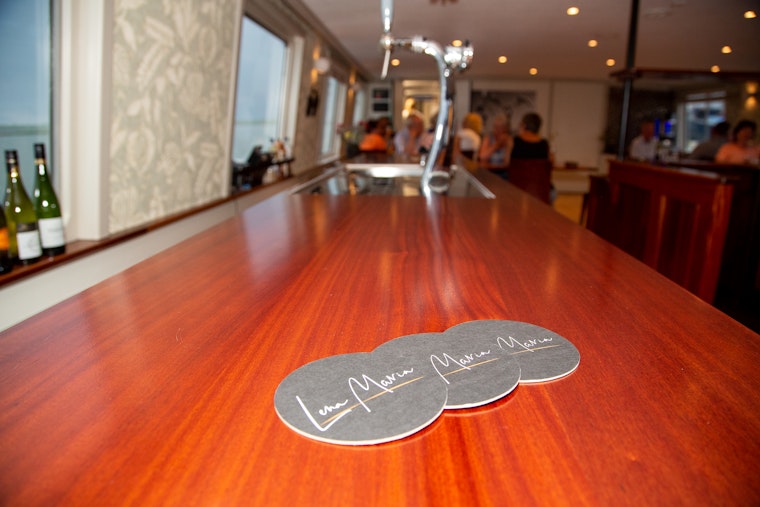 Below deck
The lower deck consists of fourteen comfortable cabins and offers space for 24 guests. The ship is divided into three compartments, which all have their own entrance.
Our rooms
A room on the Lena Maria consists of a comfortable cabin with extra wide beds and an ensuite bathroom. The bathroom is spacious and offers plenty of space to shower and to freshen up. Our cabins have plenty of storage space, central heating and good ventilation.
Wi-Fi is also available. Your cabin on the Lena Maria is the ideal spot to unwind from a busy day.
History of the ship
In 1956, the Lena Maria was built as a freighter. The ship is constructed using the rare craft of riveting. This means that metal parts are attached to each other using metal pins (rivets). By introducing modern welding techniques, the craft has been supplanted.
In 2006 she was converted into a beautiful ship by the previous owner. He has built several ships in his career and brought all his experience together in the Lena Maria. During the conversion, the ship was shortened by 15 meters. The hold also has been thoroughly renovated. Where once the space for freight was, is now room for 24 guests to spend the night in one of the fourteen cabins. The salon has been built on the former hold, which we completely renovated in 2020. It has become a beautiful and comfortable ship, offering a luxurious and personal atmosphere.
Facts about the ship
Length
45m (148 ft.)
Width
6.60m (22 ft.)
Draft
1.50m (4 feet 11 1/16 inch)
Vertical clearance
4.90m
Passengers
24 (16 feet 29/32 inch)
Crew
4